Cascade automatically saves versions of the pages of your site. Each time you make an edit to a page and save, Cascade will store both the new page and the old one as separate versions. If you make an edit to your page and realize it's not what you wanted, you can return to a previous version of the page. You can also compare an older version of a page to the current one. note: there is a limit of 25 versions
To access the versions of a page, first locate the page in the Cascade navigation. Right click the page to reveal a list of options, click on the Versions option.

This will bring up a window that lists the previous versions of the page. Remember that each time you make an edit to a page and save it, Cascade stores a new version of the page.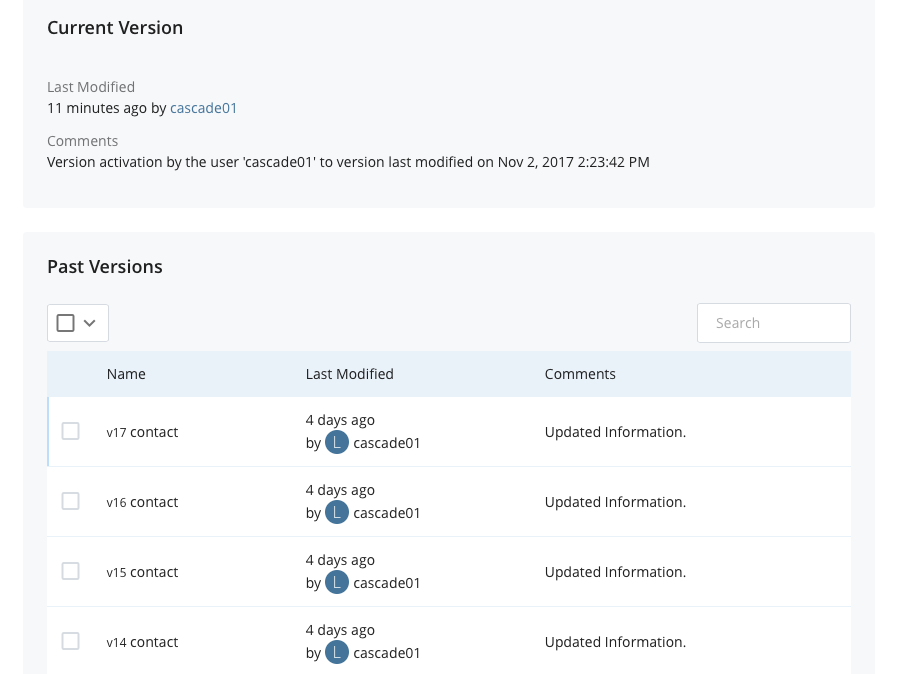 Selecting the check box next to a version will bring up some further options. The arrow button  will restore the selected version immediately. (It's always good to check the version first before you restore to make sure it is the one you want.) 
The eyeball button  compares the selected version with the most current version to see the changes that were made.
The trashcan button  deletes the selected version.
* Note: You can also access the versions list by selecting the page in the Cascade navigation, clicking on the More tab, and selecting Versions from the drop-down list that appears as shown below.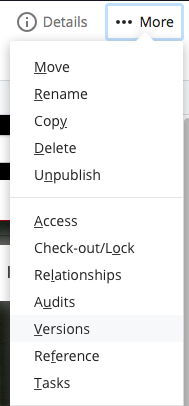 Clicking on any version in the list will open a preview of that version. You will see a notification that you are viewing a version located in the top right corner.
You can click on the More tab to see a list of options such as viewing the Newer or Older links to see previews of the next newest or the next oldest version of the page.
Clicking on the View Current Version link will return you to a preview of the current page.
Clicking on the Compare with Current link will show you the differences between the version you're viewing and the current page.
If you want to restore an older version of a page, click on the Restore this version link.
Using versions can be a useful tool in Cascade. To make versions even more productive, you can add comments when you edit a page to keep track of the changes you make. To do this, simply add a description when you go to submit the edited page in the Updated Information text area.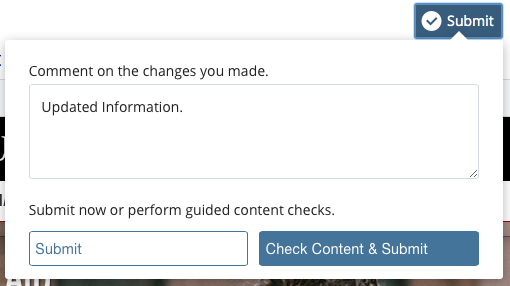 Your comments will appear when viewing the list of versions, as shown below.