This tutorial allows you to make a complete copy of an existing page in Cascade.
1. Go to the page you'd like to copy.
In this example, the page we've chosen is "contact".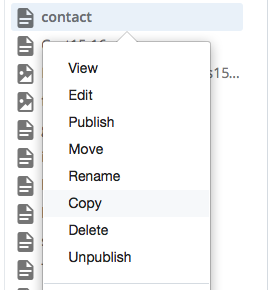 2. Right click on the page and select "Copy" from the dropdown menu
3. Rename the page if necessary by changing the text in "New Page Name"
4. Choose a parent folder by clicking on the New Folder box. This is where you choose where you want to copy the page to.

5. Click the blue "Copy" button in the upper right of the window.