In order to create a new section with pages underneath it on your website, you will have to use folders. Within a folder, you need to have at least two pages, one of which is named "index" to display properly. See below how to ensure that they appear in your navigation correctly.
In your site's dashboard in Cascade, first create a new folder.

High light the folder where you want this new folder to reside.
Typically, new folders and new sections should live under the "Base Folder". If this is the case, select your Base Folder.

Next, select the Add Content tab at the top of the page, and then "Folder".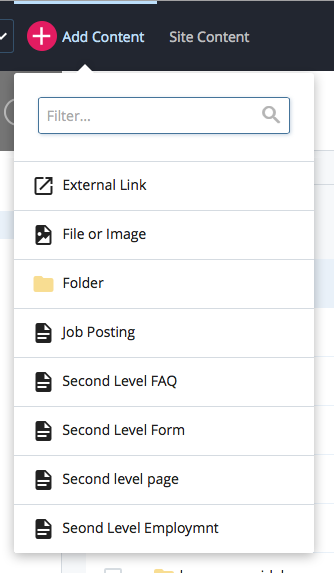 A window will pop up.

In the field called "Folder Name," give this folder a system name.

Remember, a system name should be all lowercase characters, and not have any spaces or symbols in them.
For example, a system name may be: "systemname", but not "System Name".

Directly underneath the Folder Name section will be a Metadata section.

Give your folder a "Display Name".

A display name is what appears in your site's navigation.
A display name can be formatted any way you'd want the folder displayed, such as: "New Folder".

Once your folder has both a display name and a folder name, you can hit Submit at the top of the window.
Now that your folder is created, you need to create pages to live within that folder.
High Light the folder in the left-hand navigation. (Be sure to click the carrot arrow to directly select folder.)
Click "Add Content"and select "Second Level Page".
This page that you create must have a Page Name of "index". (Remember! Page names are always all lowercase with not spaces!)
Ensure that this page has also a Display Name (within the Metadata) and a Title so the page appears properly in your navigation.
Once this "index" page is created in this new folder, go ahead and create another new page, this time giving it a page name of whatever you're creating these pages for.
Now that you have a folder that is properly named and two pages within that folder, one of which is "index", you're ready to go!